AdipoRon
AdipoR1 and AdipoR2 agonist, first orally active
Sample solution is provided at 25 µL, 10mM.
Publications citing ApexBio Products
Quality Control
Quality Control & MSDS
View current batch:
Chemical structure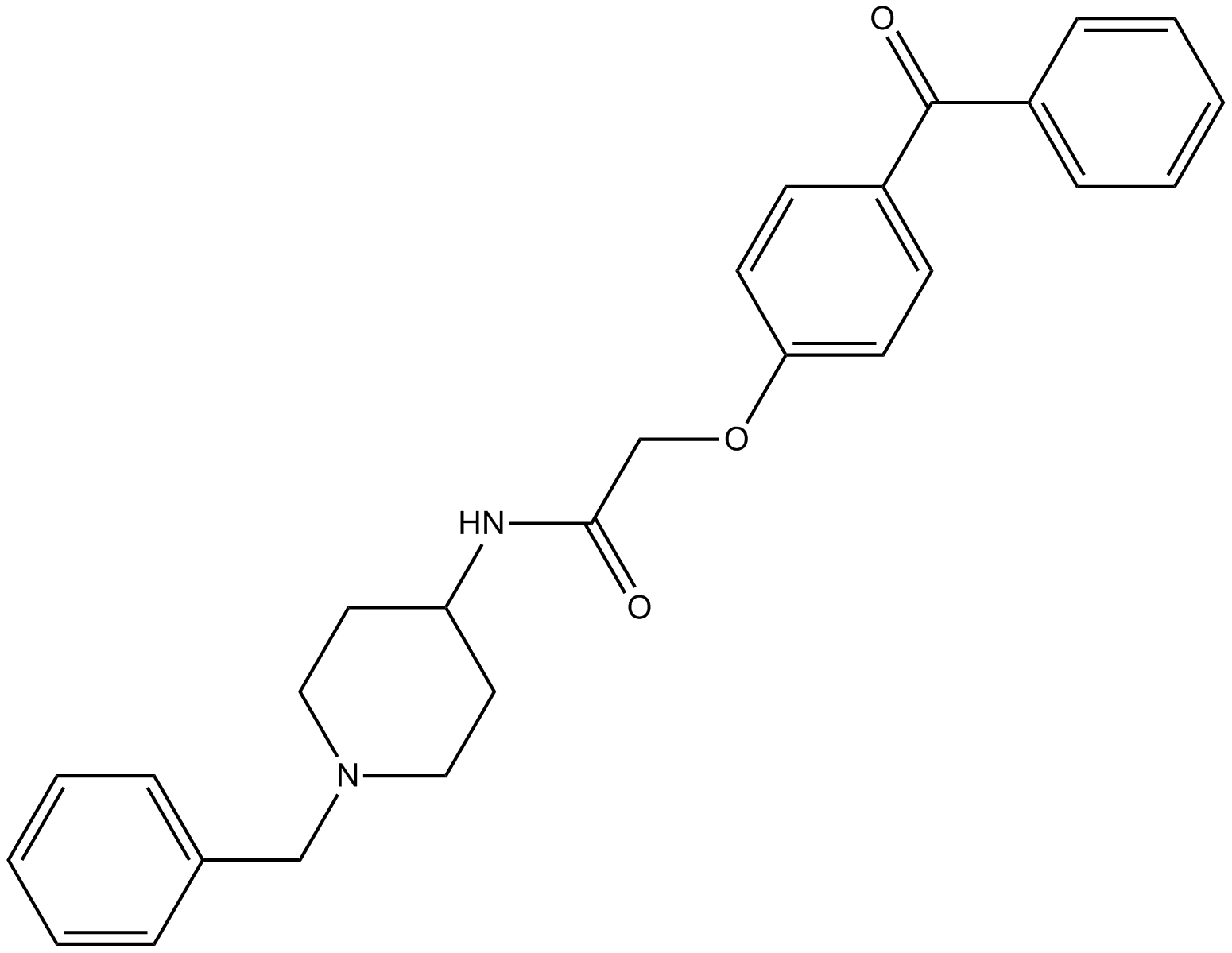 Protocol
Cell experiment [1]:

Cell lines

L02 hepatocytes, RAW264.7 macrophages

Preparation method

The solubility of this compound in DMSO is >21.5mg/mL. General tips for obtaining a higher concentration: Please warm the tube at 37 ℃ for 10 minutes and/or shake it in the ultrasonic bath for a while. Stock solution can be stored below -20℃ for several months.

Reacting condition

5–50 μM

Applications

AdipoRon (5–50 μM) pretreatment dose-dependently attenuated the expression of TNF-α and TGF-β1 in L02 cell line. AdipoRon exhibited significant and dosage-dependent growth suppression on macrophages.

Animal experiment [2]:

Animal models

Adult male WT mice and APN knockout (APN-/-) mice

Dosage form

Oral administration, 40 mg/kg

Application

Oral administration of AdipoRon significantly improved cardiac functional recovery in wild-type (WT), adiponectin knockout (APN-/-), and cardiomyocyte-specific AMPKα2 mutant transgenic mice (AMPK-DN). Oral AdipoRon administration significantly attenuated postischemic cardiac apoptosis. AdipoRon rescued the enhanced cardiomyocyte apoptosis in APN-deficient mice. AdipoRon significantly reduced NADPH oxidase expression and inhibited superoxide production in ischemic/reperfused heart.

Other notes

Please test the solubility of all compounds indoor, and the actual solubility may slightly differ with the theoretical value. This is caused by an experimental system error and it is normal.

References:

[1]. Wang Y, Wan Y, Ye G, et al. Hepatoprotective effects of AdipoRon against d-galactosamine-induced liver injury in mice[J]. European Journal of Pharmaceutical Sciences, 2016, 93: 123-131.

[2]. Zhang Y, Zhao J, Li R, et al. AdipoRon, the first orally active adiponectin receptor activator, attenuates postischemic myocardial apoptosis through both AMPK-mediated and AMPK-independent signalings[J]. American Journal of Physiology-Endocrinology and Metabolism, 2015, 309(3): E275-E282.
Chemical Properties
Cas No.
924416-43-3
SDF
Download SDF
Synonyms
N/A
Chemical Name
2-(4-benzoylphenoxy)-N-(1-benzylpiperidin-4-yl)acetamide
Canonical SMILES
O=C(C1=CC=C(OCC(NC2CCN(CC3=CC=CC=C3)CC2)=O)C=C1)C4=CC=CC=C4
Formula
C27H28N2O3
M.Wt

428.52

Solubility
≥21.45mg/mL in DMSO
Storage
Store at -20°C
Shipping Condition
Evaluation sample solution : ship with blue ice.All other available size: ship with RT , or blue ice upon request
General tips
For obtaining a higher solubility , please warm the tube at 37 ℃ and shake it in the ultrasonic bath for a while.Stock solution can be stored below -20℃ for several months.
Background
AdipoRon is an agonist of AdipoR1 and AdipoR2 with Kd values of 1.8 and 3.1 μM, respectively [1].
Adiponectin receptor (AdipoR) is a receptor for adiponectin, which is a protein and plays an important role in regulating glucose levels and fatty acid breakdown.
AdipoRon is the first orally active AdipoR1 and AdipoR2 agonist. AdipoRon (5-50 μM) increased AMPK phosphorylation via AdipoR1 in a dose-dependent way. Also, AdipoRon replenished adiponectin-stimulated AMPK phosphorylation. In C2C12 myotubes, AdipoRon increased PGC-1α expression and mitochondrial DNA content in a Ca2+- and dose-dependent way [1].
In wild-type mice, AdipoRon (50mg/kg) significantly induced AMPK phosphorylation in liver and skeletal muscle. Also, AdipoRon (50mg/kg) significantly reduced fasting plasma insulin and glucose levels. In wild-type mice fed a high-fat diet, AdipoRon increased the expression levels of
PPAR-α via AdipoR2 and reduced plasma levels of free fatty acid (FFA) and triglycerides. Also, AdipoRon reduced the expression levels of pro-inflammatory cytokines such as TNF-α and MCP-1 in the liver. In db/db obese mice, AdipoRon significantly reduced plasma glucose levels and ameliorated insulin resistance, glucose intolerance and dyslipidaemia [1]. In wild type mice, AdipoRon significantly improved cardiac function and inhibited myocardial ischemia/reperfusion (MI/R)-induced apoptosis [2].
References:
[1].  Okada-Iwabu M, Yamauchi T, Iwabu M, et al. A small-molecule AdipoR agonist for type 2 diabetes and short life in obesity. Nature, 2013, 503(7477): 493-499.
[2].  Zhang Y, Zhao J, Li R, et al. AdipoRon, the First Orally Active Adiponectin Receptor Activator, Attenuates Post-Ischemic Myocardial Apoptosis. Am J Physiol Endocrinol Metab, 2015, ajpendo.00577.2014.