Barasertib (AZD1152-HQPA)
Aurora Kinase B inhibitor, Potent and selective
Sample solution is provided at 25 µL, 10mM.
Related Compound Libraries
Quality Control
Quality Control & MSDS
View current batch:
Chemical structure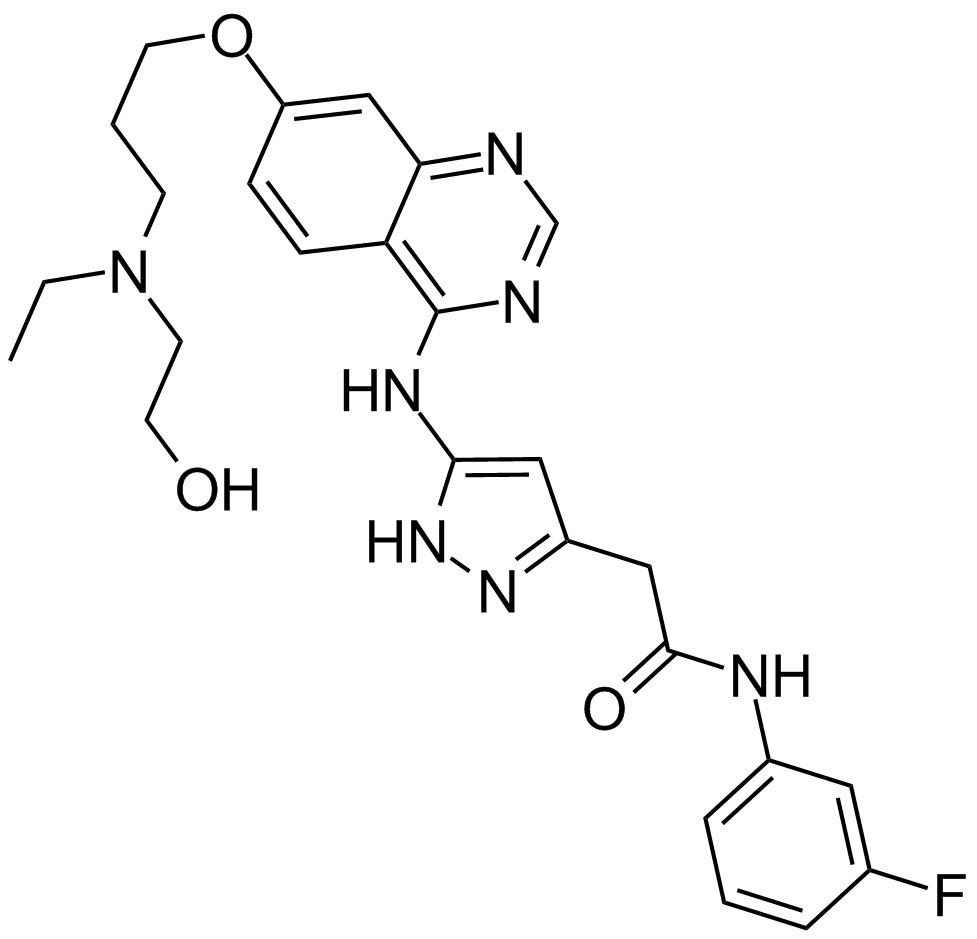 Related Biological Data
Related Biological Data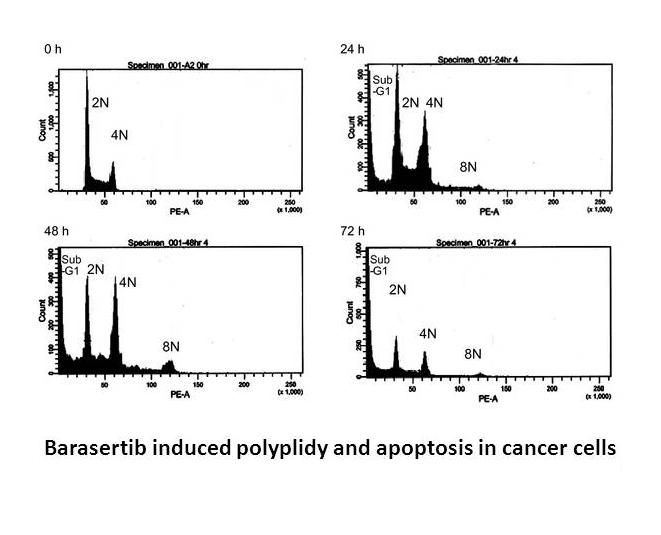 Related Biological Data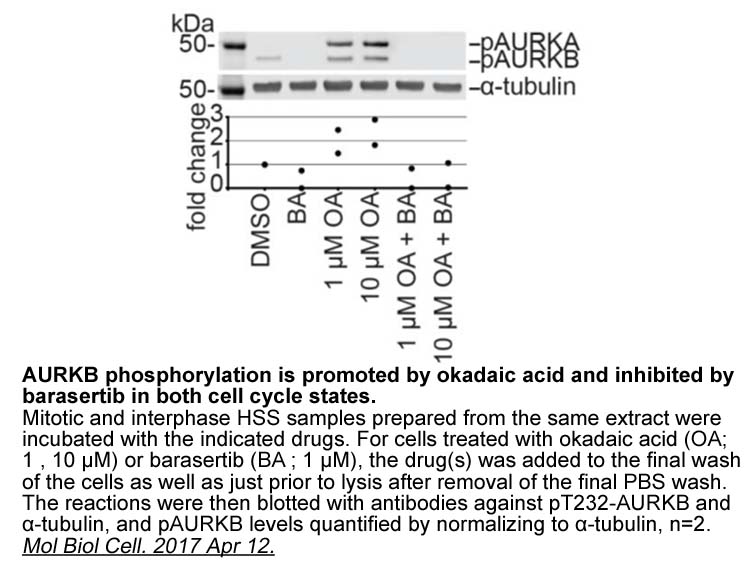 Related Biological Data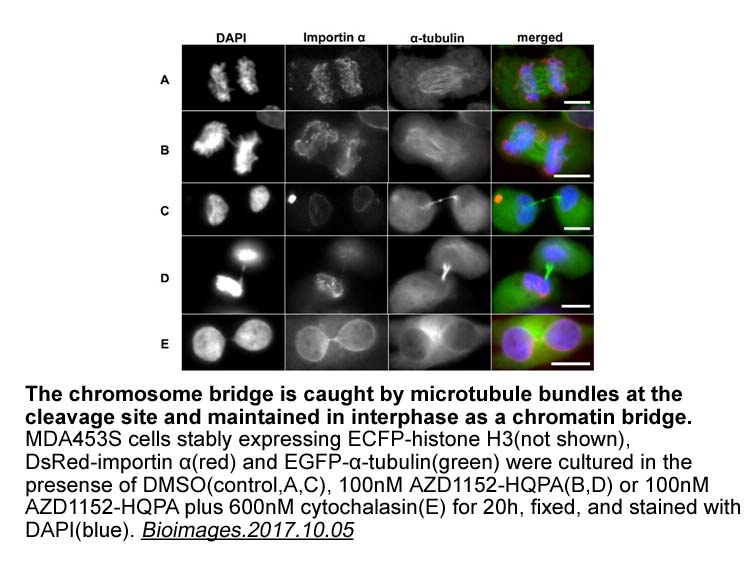 Related Biological Data
Biological Activity
Description
Barasertib (AZD1152-HQPA) is a highly selective inhibitor of Aurora B with IC50 of 0.37 nM, ~100 fold more selective for Aurora B over Aurora A.
Targets
Aurora B
IC50
0.37 nM
Protocol
Cell experiment: [1]

Cell lines

HL-60 cells

Preparation method

The solubility of this compound in DMSO is >10 mM. General tips for obtaining a higher concentration: Please warm the tube at 37 °C for 10 minutes and/or shake it in the ultrasonic bath for a while.Stock solution can be stored below -20°C for several months.

Reaction Conditions

25 nM, 72 hours

Applications

The cells exhibited increased DNA contents of 4N and 8N, indicative of polyploidy, within 24–48 h of treatment. After 48–72 h, barasertib-HQPA induced apoptotic cell death, as detected by an increased sub-G1 population compared for that of untreated cells. The induction of polyploidy was obvious at 24–48 h, and thereafter, the nuclei showed morphology typical of apoptosis, such as nuclear fragmentation and condensation. These observations were in accordance with the findings of the flow cytometric analysis.

Animal experiment: [2]

Animal models

Female nude mice injected with SW620, Colo205 or HCT116 cells

Dosage form

Subcutaneous injection, 150 mg/kg/day, minipump infusion over 48 h

Applications

In SW620, HCT116 and Colo205 xenografts significant tumor growth inhibitions of 79% (P<0.001, day 23), 60% (P<0.001, day 25) and 81% (P<0.05, day 21) were observed, respectively. Colo205 xenografts appeared the most sensitive to treatment with a mean tumor volume (± SEM) on day 21 after cell implantation, of 0.42±0.19 cm3 for the barasertib group compared to 2.24±0.75 cm3 (P<0.05) for the vehicle control animals.

Other notes

Please test the solubility of all compounds indoor, and the actual solubility may slightly differ with the theoretical value. This is caused by an experimental system error and it is normal.

References:

[1] Yamauchi T, Uzui K, Shigemi H, et al. Aurora B inhibitor barasertib and cytarabine exert a greater-than-additive cytotoxicity in acute myeloid leukemia cells. Cancer science, 2013, 104(7): 926-933.

[2] Alferez D G, Goodlad R A, Odedra R, et al. Inhibition of Aurora-B kinase activity confers antitumor efficacy in preclinical mouse models of early and advanced gastrointestinal neoplasia. International journal of oncology, 2012, 41(4): 1475-1485.
Chemical Properties
Cas No.
722544-51-6
SDF
Download SDF
Synonyms
AZD1152-HQPA,AZD-1152HQPA, AZD1152 HPQA,INH 34
Chemical Name
2-[3-[[7-[3-[ethyl(2-hydroxyethyl)amino]propoxy]quinazolin-4-yl]amino]-1H-pyrazol-5-yl]-N-(3-fluorophenyl)acetamide
Canonical SMILES
CCN(CCCOC1=CC2=C(C=C1)C(=NC=N2)NC3=NNC(=C3)CC(=O)NC4=CC(=CC=C4)F)CCO
Formula
C26H30FN7O3
M.Wt

507.56

Solubility
≥25.4 mg/mL in DMSO, <2.27 mg/mL in EtOH, <2.28 mg/mL in H2O
Storage
Store at -20°C
Physical Appearance
A solid
Shipping Condition
Evaluation sample solution : ship with blue ice.All other available size: ship with RT , or blue ice upon request
General tips
For obtaining a higher solubility , please warm the tube at 37 ℃ and shake it in the ultrasonic bath for a while.Stock solution can be stored below -20℃ for several months.
Background
Barasertib, previously known as AZD1152-hydroxyquinazoline pyrazol anilide (HQPA), is a potent aurora kinase inhibitor, which is resulted from rapid phosphatase-mediated cleavage of the precursor, AZD1152, in serum following parenteral administration in vivo. It shows inhibitory effects against a broad range of aurora kinases, including aurora A kinase (AKB), aurora B kinase (ABK), and aurora C kinase (ACK) with inhibition constant (Ki) of 1369 nM, 0.36 nM, and 17.0 nM respectively, as well as the FMS-like tyrosine kinase 3 internal tandem duplication (FLT3-ITD) mutation. Barasertib has demonstrated anti-tumor activity against a range tumor cell lines including those of leukaemic acute myeloid leukemia (AML) origin.
Reference
Martin Grundy, Claire Seedhouse, Nigel H Russell and Monica Pallis. P-glycoprotein and breast cancer resistance protein in acyte myeloid leukaemia cells treated with the aurora-B kinase inhibitor barasertib-Hqpa. BMC Cancer 2011, 11:254
Mike Dennis, Michelle Davies, Stuart Oliver, Roy D'Souza, Laura Pike, and Paul Stockman. Phase I study of the aurora B kinase inhibitor barasertib (AZD1152) to assess the pharmacokinetics, metabolism and excretion in patients with acute myeloid leukemia. Cancer Chemother Pharmacol (2012) 70:461-469