Bestatin
Aminopeptidase inhibitor
Sample solution is provided at 25 µL, 10mM.
Publications citing ApexBio Products
Related Compound Libraries
Quality Control
Quality Control & MSDS
View current batch:
Chemical structure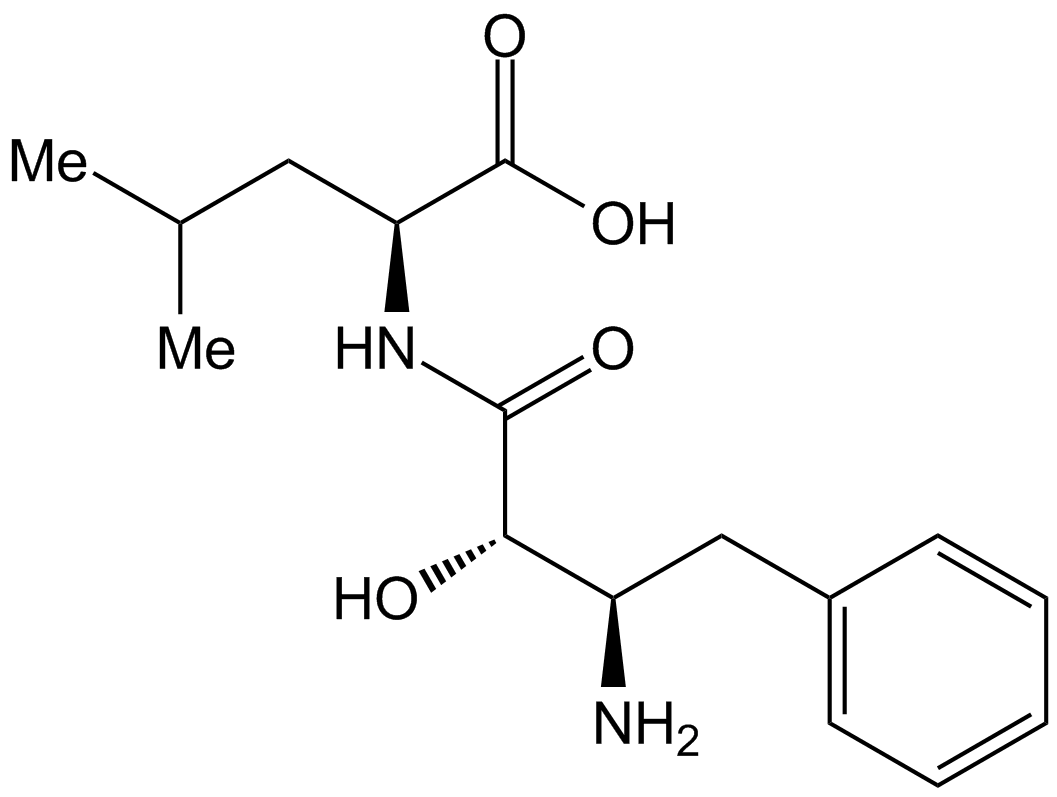 Biological Activity
Description
Bestatin is a potent aminopeptidase inhibitor with IC50 values of 0.5 nM, 5 nM, 0.28 µM and 1-10 µM for cytosol aminopeptidase, aminopeptidase N, zinc aminopeptidase and amino peptidase B, respectively.
Targets
cytosol aminopeptidase
aminopeptidase N
zinc aminopeptidase
amino peptidase B
IC50
0.5 nM
5 nM
0.28 µM
1-10 µM
Protocol
Cell experiment [1]:

Cell lines

K562 and K562/ADR cells

Preparation method

The solubility of this compound in DMSO is ≥12.34mg/mL. General tips for obtaining a higher concentration: Please warm the tube at 37 °C for 10 minutes and/or shake it in the ultrasonic bath for a while.Stock solution can be stored below -20°C for several months.

Reaction Conditions

24 h; 100 μM

Applications

To determine the interaction and the possible role of APN in MDR, RT–PCR was performed to detect the mRNA levels of APN and MDR1 in K562 and K562/ADR cells. After incubation with various concentration of bestatin for 24 h, the expression of APN mRNA was almost unchanged in K562 and K562/ADR cells. However, K562/ADR cells exhibited a significant lower level of APN mRNA than K562 cells. On the other hand, high dose of bestatin (100 μM) induced MDR1 upregulation by 49.4% and 18.0% in K562 and K562/ADR cells, respectively. The result confirmed that bestatin was a substrate of P-gp in mRNA level.

Animal experiment [1]:

Animal models

Male Wistar rat

Dosage form

4 mg/kg, dis-solved in normal saline; oral taken

Applications

When bestatin and CsA were co-administered orally, the plasma concentrations of bestatin were increased significantly compared to that of control group. 1.97- and 1.92-fold increases were observed in Cmax (4.8±0.8 μg/ml vs. 2.4±0.6 μg/ml) and AUC (1.06±0.14 mg min/ml vs. 0.55±0.04 mg min/ml) of bestatin after combination with CsA, respectively. The results suggested concomitantly administered CsA increased the intestinal absorption of bestatin.

Other notes

Please test the solubility of all compounds indoor, and the actual solubility may slightly differ with the theoretical value. This is caused by an experimental system error and it is normal.

References:

[1] Huo X, Liu Q, Wang C, et al. Enhancement effect of P-gp inhibitors on the intestinal absorption and antiproliferative activity of bestatin[J]. European Journal of Pharmaceutical Sciences, 2013, 50(3): 420-428.
Chemical Properties
Cas No.
58970-76-6
SDF
Download SDF
Synonyms
Ubenimex,Bestatin
Chemical Name
(2S)-2-[[(2S,3R)-3-amino-2-hydroxy-4-phenylbutanoyl]amino]-4-methylpentanoic acid
Canonical SMILES
CC(C)CC(C(=O)O)NC(=O)C(C(CC1=CC=CC=C1)N)O
Formula
C16H24N2O4
M.Wt

308.37

Solubility
≥12.34mg/mL in DMSO
Storage
Store at -20°C
Physical Appearance
A solid
Shipping Condition
Evaluation sample solution : ship with blue ice.All other available size: ship with RT , or blue ice upon request
General tips
For obtaining a higher solubility , please warm the tube at 37 ℃ and shake it in the ultrasonic bath for a while.Stock solution can be stored below -20℃ for several months.
Background
Ubenimex(Bestatin) is a specific inhibitor of aminopeptidase B and leucine aminopeptidase. It did not show any inhibition of aminopeptidase A, trypsin, chymotrypsin, elastase, papain, pepsin or thermolysin. Bestatin at 100 pg/ml showed no antibacterial and no antifungal activities. It has low toxicity with no death after intraperitoneal injection of 300 mg/kg to mice1.
Bestatin isolated from the culture filtrate of Streptomyces olivoreticuli MD976-C72. The structure of bestatin was elucidated to be (2S, 3R)-3-amino-2-hydroxy-4- phenylbutanoyll-(S)-leucine3, 4. Bestatin itself was not hydrolyzed by either of the enzymes, when bestatin was incubated as substrate, L-leucine was not detected by thin-layer chromatography.
Unlike the case of orthophenanthroline, the inhibitory activity of bestatin on aminopeptidase B was not reversed by addition of zinc ion. Bestatin has a pair of adjacent amino and hydroxyl groups, which shows metal-complexing activity5-7. If the inhibitory activity of bestatin is attributable to five-membered chelate ring formation by a pair of adjacent amino and hydroxyl groups of bestatin and a metal ion of the enzyme, the isomers having erythro AHPA, which is difficult to form a chelate ring, are expected not to show inhibitory activity. However, the isomers having erythro-AHPA or (2S, 3S)-AHPA showed marked inhibitory activity. Bestatin and its active isomers are effective due to a mechanism other than a chelating action at the active center8.
References:
1. Umezawa H, Aoyagi T, Suda H, Hamada M, Takeuchi T, Bestatin, an inhibitor of aminopeptidase B, produced by actinomycetes, J Antibiot (Tokyo). 1976 Jan; 29(1):97-9.
2. Umezawa, H., Aoyagi, T., Suda, H., Hamada, M., And Takeuchi, T. 197615. Antibiotics 29, 97.
3. Suda, H., Takita, T., Aoyagi, T., And Umezawa, H. (1976) J. Antibiotics 29, 100.
4. Nakamura, H., Suda, H., Takita, T., Aoyagi, T., Umezawa, H., And Iitaka, Y. (1976) J. Antibiotics 29, 102.
5. Umezawa, S., Tsuchiya, T., And Tatsuta, K. (1966) Bull. Chem. Sot. Japan 39, 1235.
6. Barlow, C. B., And Gijthrie, R. D. (1967) J. Chem. Sot. (C) 1194.
7. Bukhari, S. T. K., Guthrie, R. D., Scott, A. I., And Wrixon, A. D. (1970) Tetrahedron 26, 3653.
8. Suda et al. Inhibition of aminopeptidase B and leucine aminopeptidase by bestatin and its stereoisomer, Archives of Biochemistry and Biophysics, 77, 196-200 (1976)