CTEP (RO4956371)
MGlu5 inhibitor
Sample solution is provided at 25 µL, 10mM.
Related Compound Libraries
Quality Control
Quality Control & MSDS
View current batch:
Chemical structure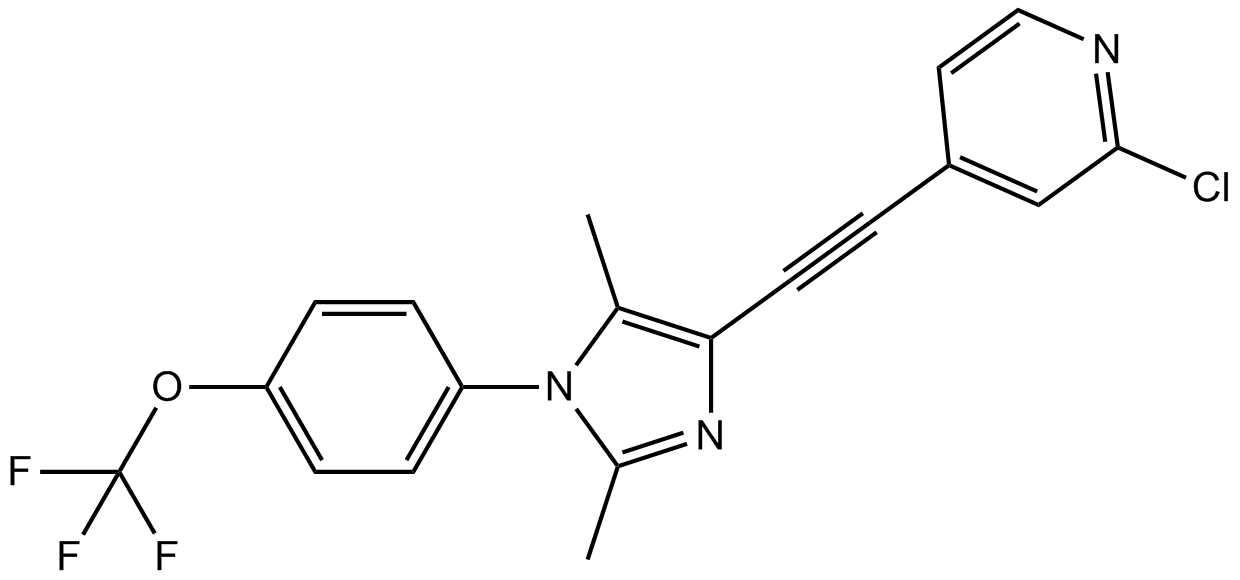 Related Biological Data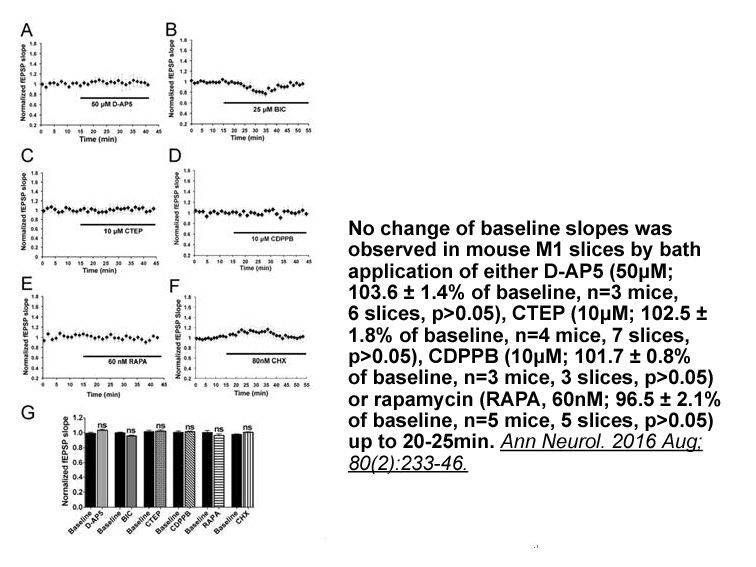 Biological Activity
Description
CTEP (RO4956371) is a novel, long-acting, orally bioavailable allosteric antagonist of mGlu5 receptor with IC50 of 2.2 nM.
Targets
mGlu5 receptor
IC50
2.2 nM
Protocol
Kinase experiment [1]:

Radioligand Binding Assays

For all filtration radioligand binding assays, membrane preparations expressing the target receptors or receptor combinations are resuspended in radioligand binding buffer (15 mM Tris-HCl, 120 mM NaCl, 5 mM KCl, 1.25 mM CaCl2, and 1.25 mM MgCl2, pH 7.4), and the membrane suspension is mixed with the appropriate concentrations of radioligand and nonlabeled drugs in 96-well plates in a total volume of 200 μL and incubated for 60 min at the appropriate temperature. At the end of the incubation, membranes are filtered onto Whatman Unifilter preincubated with 0.1% polyethyleneimine in wash buffer (50 mM Tris-HCl, pH 7.4) with a Filtermate 196 harvester and washed three times with ice-cold wash buffer. Radioactivity captured on the filter is quantified on a Topcount microplate scintillation counter with quenching correction after the addition of 45 μL of MicroScint 40 per well and shaking for 20 min. The concentration of membranes and incubation time is determined for each assay in pilot experiments.

Animal experiment:

Animal models

Adult male C57BL/6 mice model; Adult male Sprague-Dawley rats model; Fmr1 knockout mouse model

Dosage form

0.01 to 3.0 mg/kg; oral gavage; for 18 hours; or 2 mg/kg per 48 hr p.o. for 2 weeks

Applications

CTEP (0.1 and 0.3 mg/kg) was dose-dependently active in the stress-induced hyperthermia procedure in mice and the Vogel conflict drinking test in rats [1]. Moreover, CTEP corrected excessive protein synthesis, mGlu-long-term depression, and audiogenic seizures in the Hippocampus of Fmr1 knockout mice [2].

Other notes

Please test the solubility of all compounds indoor, and the actual solubility may slightly differ with the theoretical value. This is caused by an experimental system error and it is normal.

References:

1. Lindemann, L., Jaeschke, G., Michalon, A., Vieira, E., Honer, M., Spooren, W., Porter, R., Hartung, T., Kolczewski, S., Buttelmann, B., Flament, C., Diener, C., Fischer, C., Gatti, S., Prinssen, E. P., Parrott, N., Hoffmann, G. and Wettstein, J. G. (2011) CTEP: a novel, potent, long-acting, and orally bioavailable metabotropic glutamate receptor 5 inhibitor. J Pharmacol Exp Ther. 339, 474-486

2. Michalon, A., Sidorov, M., Ballard, T. M., Ozmen, L., Spooren, W., Wettstein, J. G., Jaeschke, G., Bear, M. F. and Lindemann, L. (2012) Chronic pharmacological mGlu5 inhibition corrects fragile X in adult mice. Neuron. 74, 49-56
Chemical Properties
Cas No.
871362-31-1
SDF
Download SDF
Synonyms
N/A
Chemical Name
2-chloro-4-[2-[2,5-dimethyl-1-[4-(trifluoromethoxy)phenyl]imidazol-4-yl]ethynyl]pyridine
Canonical SMILES
CC1=C(N=C(N1C2=CC=C(C=C2)OC(F)(F)F)C)C#CC3=CC(=NC=C3)Cl
Formula

C19H13ClF3N3O

M.Wt

391.77

Solubility
≥19.6mg/mL in DMSO
Storage
Store at -20°C
Physical Appearance
A solid
Shipping Condition
Evaluation sample solution : ship with blue ice.All other available size: ship with RT , or blue ice upon request
General tips
For obtaining a higher solubility , please warm the tube at 37 ℃ and shake it in the ultrasonic bath for a while.Stock solution can be stored below -20℃ for several months.
Background
CTEP is a potent, long-acting, and orally bioavailable inhibitor of metabotropic glutamate receptor 5 (mGlu5) with IC50 value of 11.4nM [1].
CTEP is a negative allosteric modulator of mGlu5 and has inverse agonist activity. In the in vitro binding assay, CTEP binds to human, mouse and rat mGlu5 with Kd values of 1.7nM, 1.8nM and 1.5 nM, respectively. In HEK293 cells expressing mGlu5, CTEP inhibits quisqualate-induced Ca2+ mobilization and inositol phosphate accumulation with IC50 value of 11.4nM and 6.4nM, respectively. In addition, it shows an IC50 value of 40.1nM in the IP accumulation assay, demonstrating its inverse agonist activity. CTEP is proved to be a highly selective inhibitor of mGlu5. It shows no significant activity against mGlu1, mGlu2, mGlu3, mGlu4, mGlu6, mGlu7 or mGlu8 at concentration up to 10μM [1].
In the in vivo Vogel conflict drinking test, CTEP markedly increases drinking time at doses of 0.3mg/kg. In adult C57BL/6 mice brain, CTEP displaces the mGlu5 antagonist ABP688 in the regions expressing mGlu5 by 50% at dose of 77.5 ng/g [1].
References:
[1] Lindemann L, Jaeschke G, Michalon A, et al. CTEP: a novel, potent, long-acting, and orally bioavailable metabotropic glutamate receptor 5 inhibitor. Journal of Pharmacology and Experimental Therapeutics, 2011, 339(2): 474-486.