Danusertib (PHA-739358)
Pan-aurora kinase inhibitor
Sample solution is provided at 25 µL, 10mM.
Related Compound Libraries
Quality Control
Quality Control & MSDS
View current batch:
Chemical structure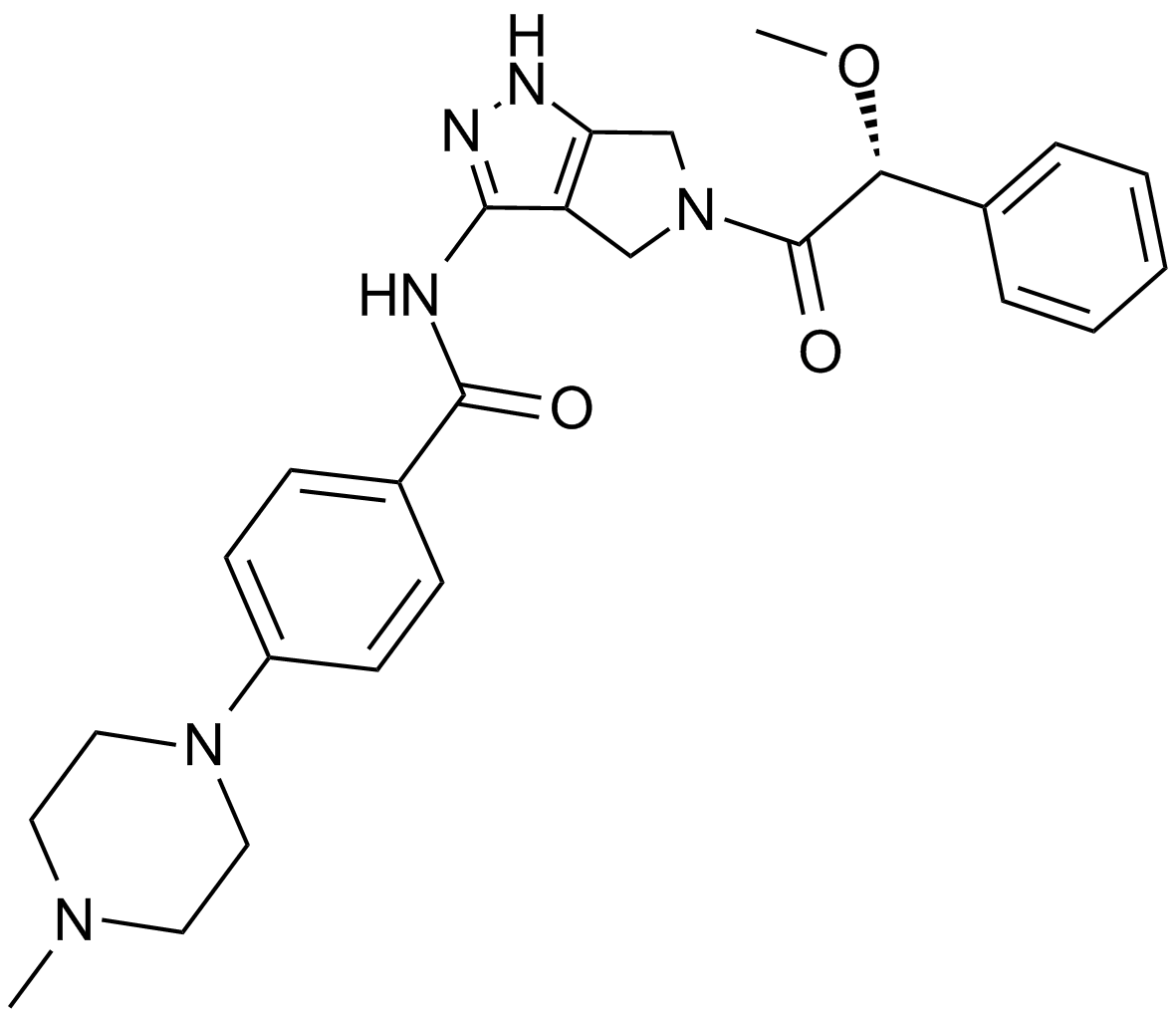 Related Biological Data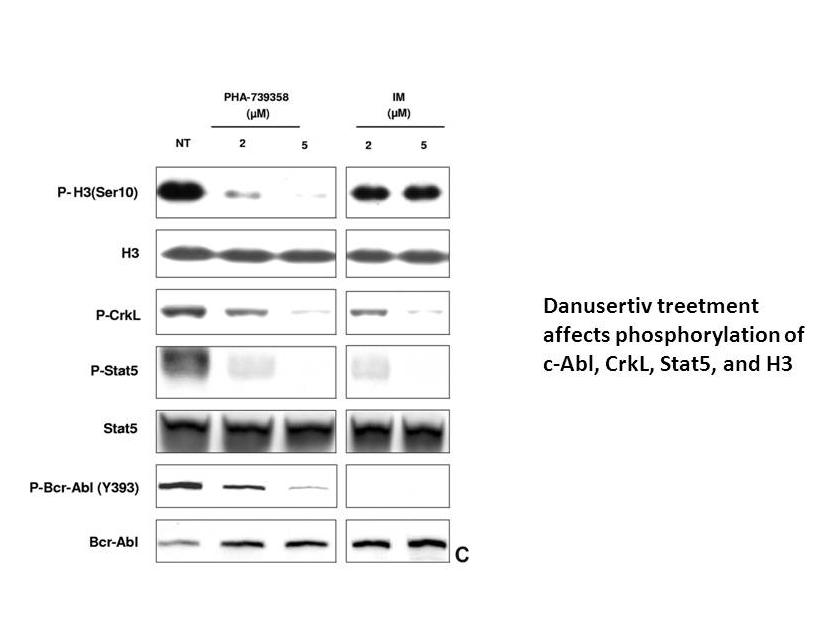 Related Biological Data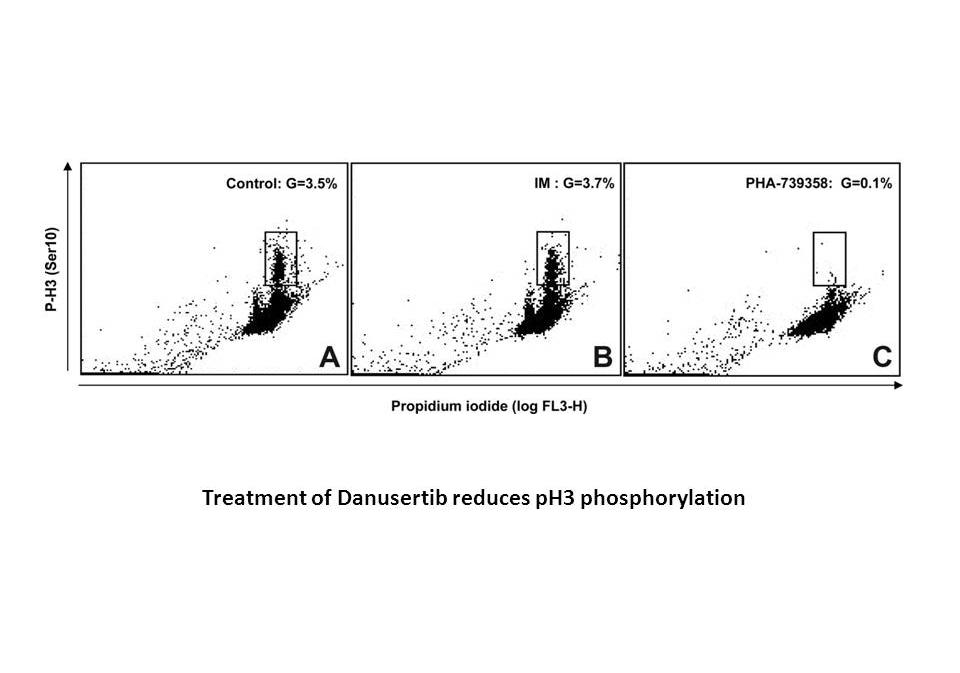 Related Biological Data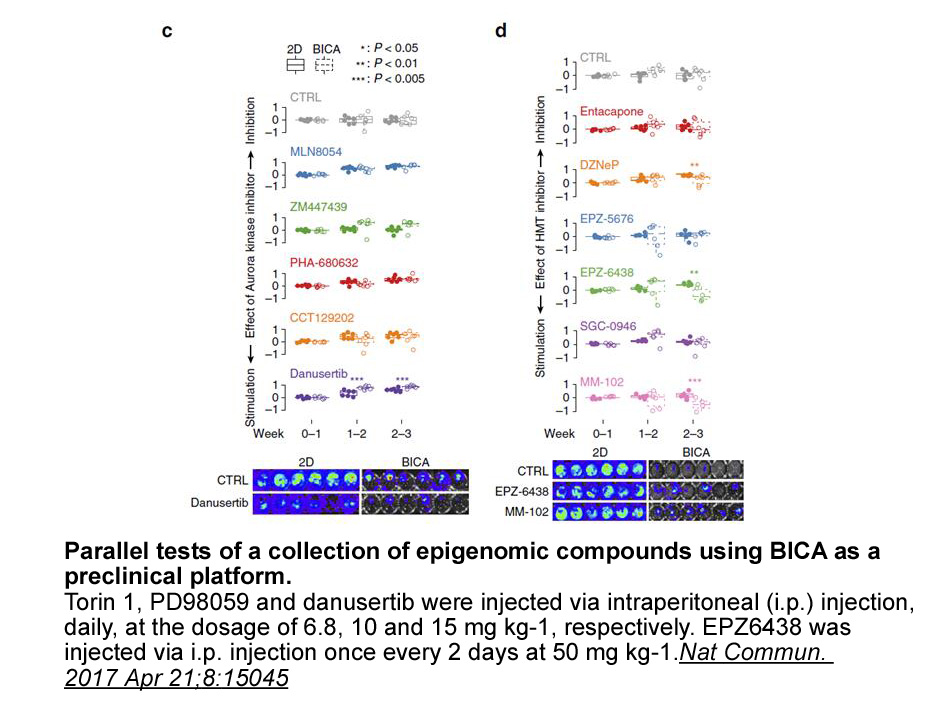 Related Biological Data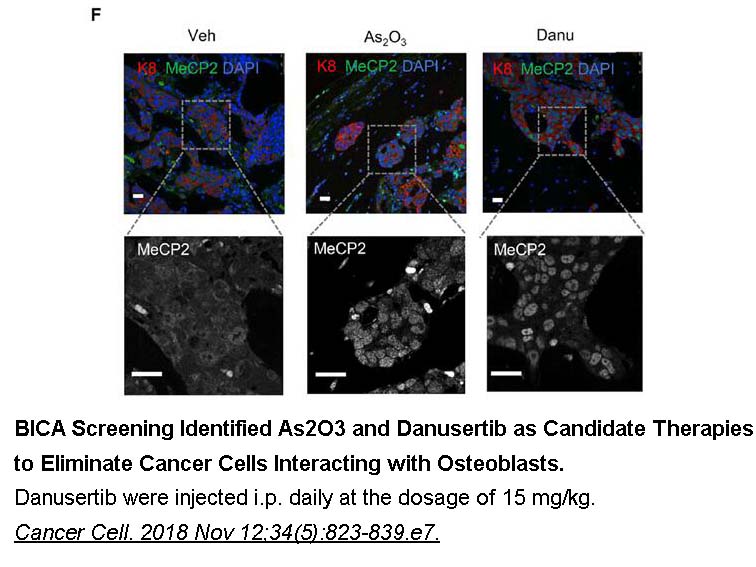 Biological Activity
Description
Danusertib (PHA-739358) is an inhibitor of Aurora kinase for Aurora A/B/C with IC50 of 13 nM/79 nM/61 nM, modestly potent to Abl, TrkA, c-RET and FGFR1, and less potent to Lck, VEGFR2/3, c-Kit, CDK2, etc
Targets
Aurora A/B/C
Bcr-Abl
c-RET
FGFR
TrkA
IC50
13 nM/79 nM/61 nM
25nM
31 nM
47 nM
30 nM
Protocol
Kinase experiment [1]:

Biochemical kinase assays

The Km values for ATP and the specific substrate were initially determined, and each assay was then run at optimized ATP (2Km) and substrate (5Km) concentrations. This setting enabled direct comparison of IC50 values of Danusertib across the applied kinase selectivity screening panel for the evaluation of the selectivity profile.

Cell experiment [2]:

Cell lines

CD34+ cells

Preparation method

The solubility of this compound in DMSO is >10 mM. General tips for obtaining a higher concentration: Please warm the tube at 37 °C for 10 minutes and/or shake it in the ultrasonic bath for a while. Stock solution can be stored below -20 °C for several months.

Reaction Conditions

5 μM; 5 days

Applications

In CD34+ cells from an IM-resistant CML patient, Danusertib induced apoptosis and reduced phosphorylation of P-CrkL.

Animal experiment [2]:

Animal models

Female SCID mice s.c. injected with K562 cells

Dosage form

15 mg/kg; i.p.; b.i.d., for 10 days

Applications

Danusertib significantly inhibited K562 cell proliferation and virtually suppressed tumor growth.

Other notes

Please test the solubility of all compounds indoor, and the actual solubility may slightly differ with the theoretical value. This is caused by an experimental system error and it is normal.

References:

[1]. Carpinelli P, Ceruti R, Giorgini ML, Cappella P, Gianellini L, Croci V, Degrassi A, Texido G, Rocchetti M, Vianello P, Rusconi L, Storici P, Zugnoni P, Arrigoni C, Soncini C, Alli C, Patton V, Marsiglio A, Ballinari D, Pesenti E, Fancelli D, Moll J. PHA-739358, a potent inhibitor of aurora kinases with a selecyive target inhibiton profile relevant to cancer. Mol Cancer Ther 2007; 6(12 Pt 1): 3158-3168.

[2]. Gontarewicz A, Balabanov S, Keller G, Colombo R, Graziano A, Pesenti E, Benten D, Bokemeyer C, Fiedler W, Moll J, Brümmendorf TH. Simultaneous targeting of Aurora kinases and Bcr-Abl kinase by the small molecule inhibitor PHA-739358 is effective against imatinib-resistant BCR-ABL mutations including T315I. Blood. 2008 Apr 15;111(8):4355-64.
Chemical Properties
Cas No.
827318-97-8
SDF
Download SDF
Synonyms
5-Amido-pyrrolopyrazole 9d
Chemical Name
N-[5-[(2R)-2-methoxy-2-phenylacetyl]-4,6-dihydro-1H-pyrrolo[3,4-c]pyrazol-3-yl]-4-(4-methylpiperazin-1-yl)benzamide
Canonical SMILES
CN1CCN(CC1)C2=CC=C(C=C2)C(=O)NC3=NNC4=C3CN(C4)C(=O)C(C5=CC=CC=C5)OC
Formula
C26H30N6O3
M.Wt

474.55

Solubility
≥23.75 mg/mL in DMSO, <2.37 mg/mL in EtOH, <2.46 mg/mL in H2O
Storage
Store at -20°C
Physical Appearance
A solid
Shipping Condition
Evaluation sample solution : ship with blue ice.All other available size: ship with RT , or blue ice upon request
General tips
For obtaining a higher solubility , please warm the tube at 37 ℃ and shake it in the ultrasonic bath for a while.Stock solution can be stored below -20℃ for several months.
Background
Danusertib (previously known as PHA-739358), a 3-aminopyrazole derivative identified during the development of the pyrrolopyrazole sub-series, is a potent small-molecule inhibitor of aurora kinases family members with a dominant inhibition for aurora B kinase (ABK). This pan-aurora kinases inhibitor is also able to inhibit several tyrosine kinases, including T315I mutant, Ret, Trk-A and fibroblast growth factor receptor-1 (FGFR-1), which are involved in multiple malignancies, such as chronic myelogenous leukemia (CML), acute lymphoblastic leukemia (ALL), thyroid prostate and breast carcinoma. Thus, in many previous studies, danusertib exhibits remarkable antitumor activity in a number of different xengorafts, spontaneous, and transgenic animal tumor models with a favorable pharmacokinetic and safety profile.
Reference
Carpinelli P, Ceruti R, Giorgini ML, Cappella P, Gianellini L, Croci V, Degrassi A, Texido G, Rocchetti M, Vianello P, Rusconi L, Storici P, Zugnoni P, Arrigoni C, Soncini C, Alli C, Patton V, Marsiglio A, Ballinari D, Pesenti E, Fancelli D, Moll J. PHA-739358, a potent inhibitor of aurora kinases with a selecyive target inhibiton profile relevant to cancer. Mol Cancer Ther 2007; 6(12 Pt 1): 3158-3168