Daunorubicin HCl
DNA topoisomerase II inhibitor
Sample solution is provided at 25 µL, 10mM.
Publications citing ApexBio Products
Related Compound Libraries
Quality Control
Quality Control & MSDS
View current batch:
Chemical structure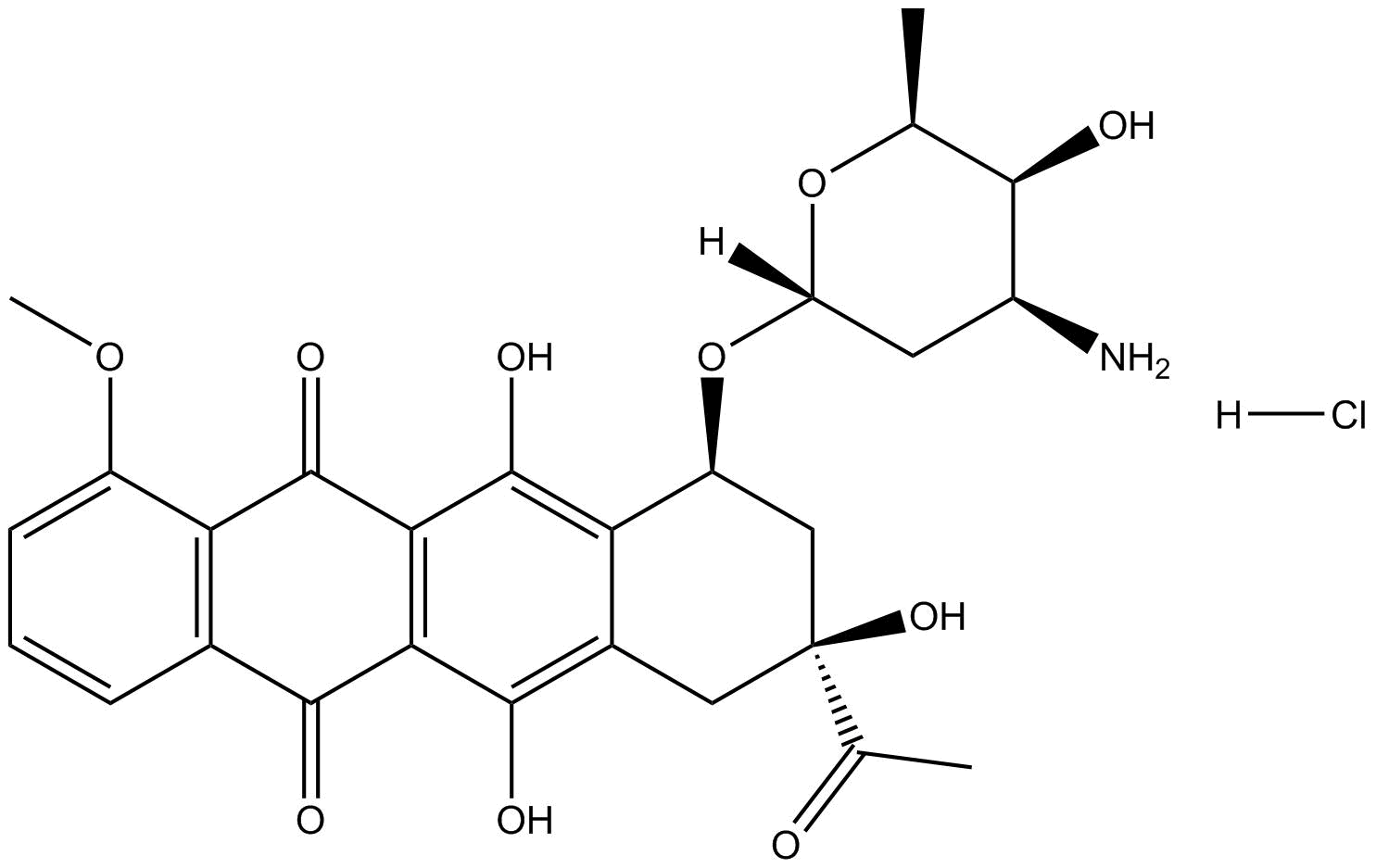 Protocol
Cell experiment [1]:

Cell lines

Murine melanoma cells (B16F10) and the murine fibroblast NIH/3T3

Preparation method

The solubility of this compound in DMSO is >28.2mg/mL. General tips for obtaining a higher concentration: Please warm the tube at 37℃ for 10 minutes and/or shake it in the ultrasonic bath for a while. Stock solution can be stored below -20℃ for several months.

Reacting condition

5 to500 μM for 24 h

Applications

Daunorubicin exerted toxicity against melanoma cells at 15 μM. Daunorubicin caused slight morphology alterations on fibroblast cells and inhibited cell proliferation observed by a decreased cell density when compared with untreated cells.

Animal experiment [2]:

Animal models

Balb-c mice

Dosage form

single intraperitoneal , 2.3 to 28.25 μmol/kg

Application

In Balb-c mice, tumour growth inhibition was slight great in daunorubicin-treated groups at the lower dose (1.8 μmol/kg) while at the higher dose level, tumour growth inhibition under daunorubicin treatment was clearly great (7.5 μmol/kg). All the animals from saline developed metastatic nodes while 80% of daunorubicin-treated groups presented metastatic sites.

Other notes

Please test the solubility of all compounds indoor, and the actual solubility may slightly differ with the theoretical value. This is caused by an experimental system error and it is normal.

References:

[1]. Contente TC, Kretzer IF., et al. Association of daunorubicin to a lipid nanoemulsion that binds to low-density lipoprotein receptors enhances the antitumour action and decreases the toxicity of the drug in melanoma-bearing mice. J Pharm Pharmacol. 2014 Dec;66(12):1698-709. doi: 10.1111/jphp.12296
Chemical Properties
Cas No.
23541-50-6
SDF
Download SDF
Chemical Name
(8S,10S)-8-acetyl-10-(((2R,4S,5S,6S)-4-amino-5-hydroxy-6-methyltetrahydro-2H-pyran-2-yl)oxy)-6,8,11-trihydroxy-1-methoxy-7,8,9,10-tetrahydrotetracene-5,12-dione hydrochloride
Canonical SMILES
Cl[H].O=C(C([H])([H])[H])[C@@](C([H])([H])[C@]1([H])O[C@](C([H])([H])[C@]2([H])N([H])[H])([H])O[C@](C([H])([H])[H])([H])[C@@]2([H])O[H])(C([H])([H])C3=C1C(O[H])=C(C(C4=C5C([H])=C([H])C([H])=C4OC([H])([H])[H])=O)C(C5=O)=C3O[H])O[H]
Formula
C27H30ClNO10
M.Wt

563.98

Solubility
≥28.2mg/mL in DMSO
Storage
Store at -20°C
Shipping Condition
Evaluation sample solution : ship with blue ice.All other available size: ship with RT , or blue ice upon request
General tips
For obtaining a higher solubility , please warm the tube at 37 ℃ and shake it in the ultrasonic bath for a while.Stock solution can be stored below -20℃ for several months.
Background
Daunorubicin HCl is an inhibitor of DNA topoisomerase II [1].
Daunorubicin is an anthracycline antibiotic. It is also used as an effective chemotherapeutic agent against tumors especially acute myeloid leukaemia and acute lymphocytic leukaemia. Daunorubicin can affect the metabolism and synthesis of DNA and RNA. In the in vitro assay, daunorubicin inhibits the incorporation of thymidine and uridine into L1210 cells. It also inhibits the incorporation of labeled precursors into the isolated DNA and RNA from incubated cells. When treated with leukemic cells isolated from acute lymphocytic leukemia patients, daunorubicin significantly inhibits the biosynthesis of the DNA and RNA macromolecules [2, 3].
References:
[1] Hande K R. Etoposide: four decades of development of a topoisomerase II inhibitor. European Journal of Cancer, 1998, 34(10): 1514-1521.
[2] Momparler R L, Karon M, Siegel S E, et al. Effect of adriamycin on DNA, RNA, and protein synthesis in cell-free systems and intact cells. Cancer Research, 1976, 36(8): 2891-2895.
[3] Meriwether W D, Bachur N R. Inhibition of DNA and RNA metabolism by daunorubicin and adriamycin in L1210 mouse leukemia. Cancer research, 1972, 32(6): 1137-1142.