EGF816
Novel covalent inhibitor of mutant-selective EGFR
Sample solution is provided at 25 µL, 10mM.
Quality Control
Quality Control & MSDS
View current batch:
Chemical structure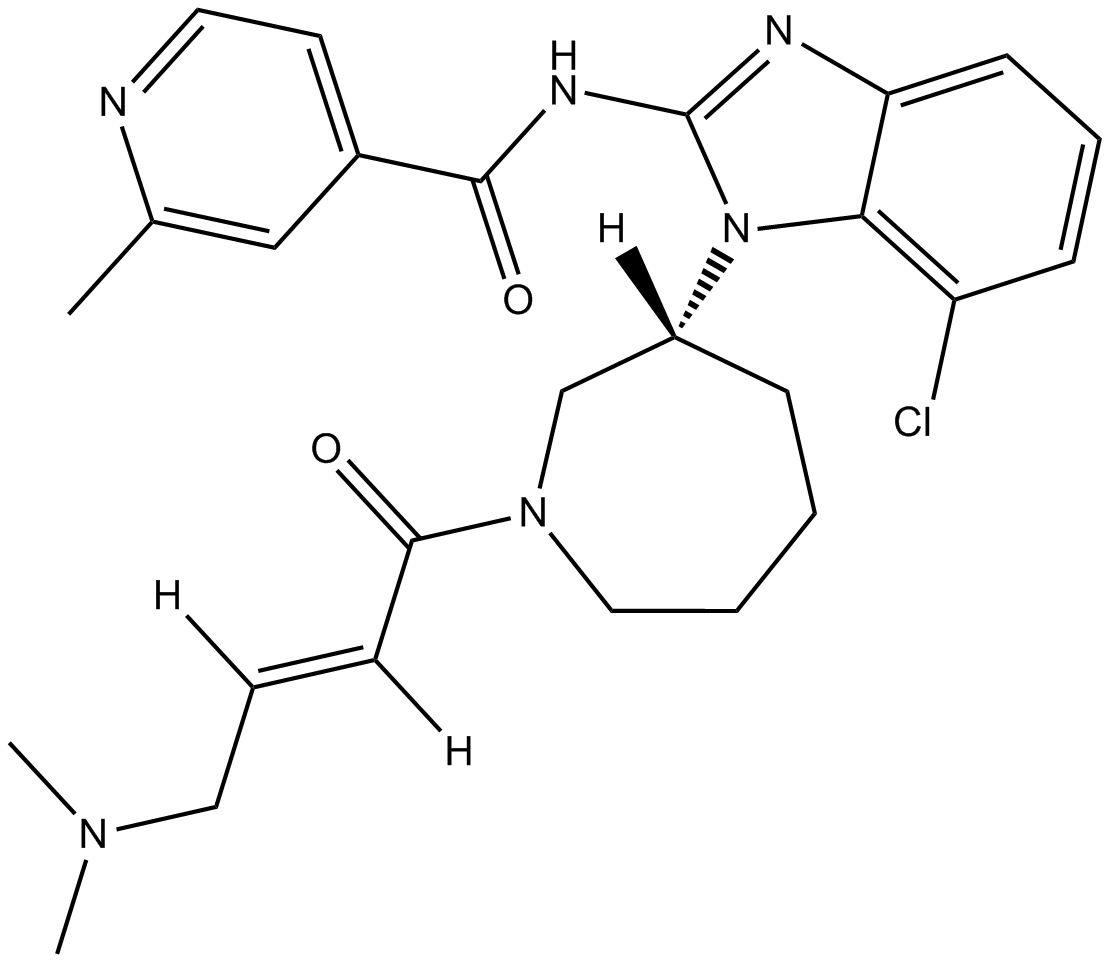 Related Biological Data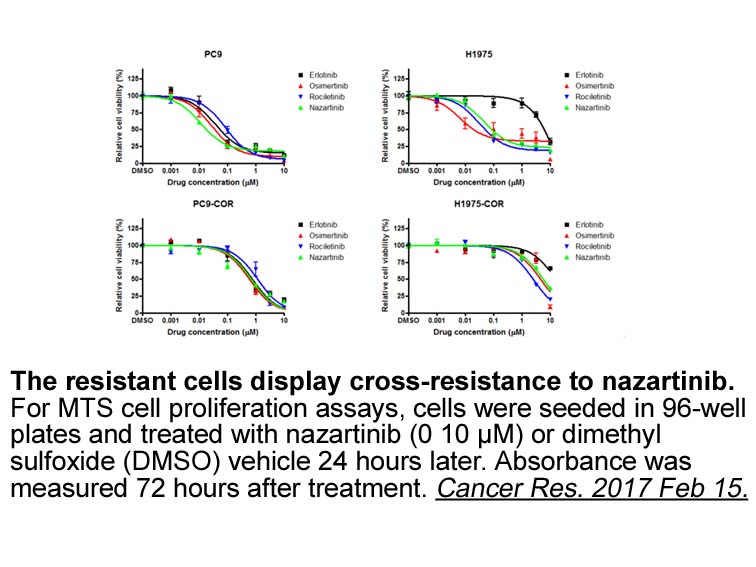 Related Biological Data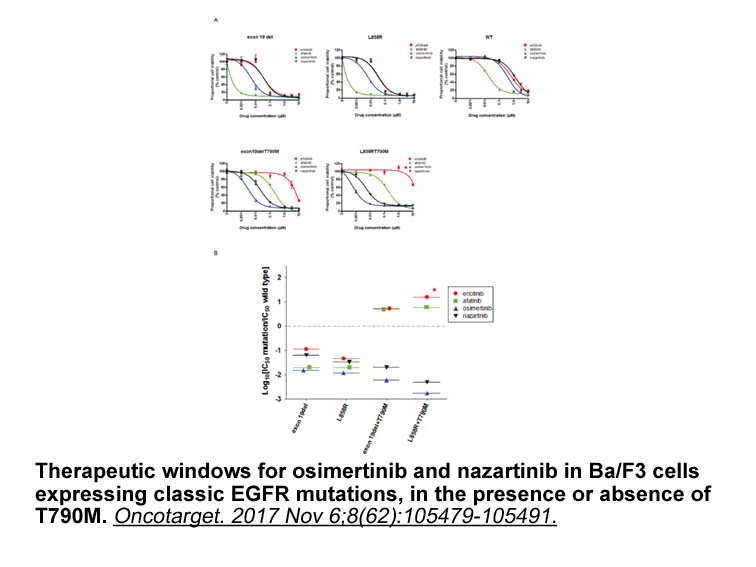 Related Biological Data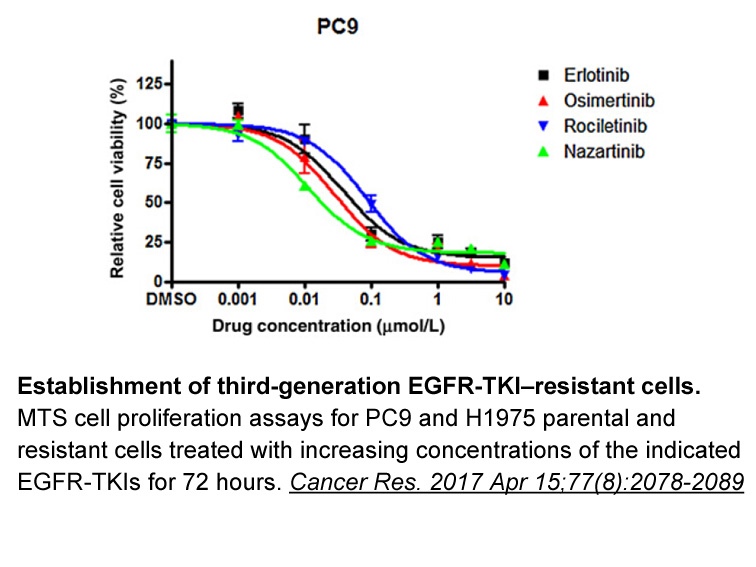 Protocol
Cell experiment [1]:

Cell lines

H3255, HCC827 and H1975 cells

Preparation method

This compound is soluble in DMSO. General tips for obtaining a higher concentration: Please warm the tube at 37 °C for 10 minutes and/or shake it in the ultrasonic bath for a while. Stock solution can be stored below - 20 °C for several months.

Reacting condition

0.01 nM ~ 100 μM; 3 hrs

Applications

In H3255, HCC827 and H1975 cells, EGF816 significantly lowered pEGFR levels with EC50 values of 5, 1 and 3 nM, respectively. In addition, EGF816 inhibited proliferation of H3255, HCC827 and H1975 cells with EC50 values of 9, 11 and 25 nM, respectively.

Animal experiment [1]:

Animal models

H1975 mouse xenograft models

Dosage form

3, 10, 30 or 100 mg/kg; p.o.; q.d., for 14 days

Applications

In H1975 mouse xenograft models, EGF816 (10 mg/kg) significantly inhibited tumor growth with a T/C value of 29%. At higher doses of 30 and 100 mg/kg, EGF816 inhibited tumor growth with T/C values reaching ~ 60% and ~ 80%, respectively.

Other notes

Please test the solubility of all compounds indoor, and the actual solubility may slightly differ with the theoretical value. This is caused by an experimental system error and it is normal.

References:

[1]. Jia Y, Juarez J, Li J, Manuia M, Niederst MJ, Tompkins C, Timple N, Vaillancourt MT, Pferdekamper AC, Lockerman EL, Li C, Anderson J, Costa C, Liao D, Murphy E, DiDonato M, Bursulaya B, Lelais G, Barretina J, McNeill M, Epple R, Marsilje TH, Pathan N, Engelman JA, Michellys PY, McNamara P, Harris J, Bender S, Kasibhatla S. EGF816 Exerts Anticancer Effects in Non-Small Cell Lung Cancer by Irreversibly and Selectively Targeting Primary and Acquired Activating Mutations in the EGF Receptor. Cancer Res. 2016 Mar 15;76(6):1591-602.
Chemical Properties
Cas No.
1508250-71-2
SDF
Download SDF
Synonyms
Nazartinib
Chemical Name
(R,E)-N-(7-chloro-1-(1-(4-(dimethylamino)but-2-enoyl)azepan-3-yl)-1H-benzo[d]imidazol-2-yl)-2-methylisonicotinamide
Canonical SMILES
CC1=CC(C(NC2=NC3=CC=CC(Cl)=C3N2[C@]4([H])CCCCN(C(/C([H])=C([H])/CN(C)C)=O)C4)=O)=CC=N1
Formula
C26H31ClN6O2
M.Wt

495.02

Solubility
Soluble in DMSO
Storage
Store at -20°C
Shipping Condition
Evaluation sample solution : ship with blue ice.All other available size: ship with RT , or blue ice upon request
General tips
For obtaining a higher solubility , please warm the tube at 37 ℃ and shake it in the ultrasonic bath for a while.Stock solution can be stored below -20℃ for several months.
Background
Non-small cell lung cancer (NSCLC) patients with activating epidermal growth factor receptor (EGFR) mutations respond to EGFR tyrosine kinase inhibitors (TKI) but ultimately develop resistance to these therapies. The most common resistance mechanism is a second site gate-keeper mutation within exon 20 of EGFR (T790M). EGF816 is identified as a novel covalent inhibitor of mutant-selective epidermal growth factor receptor.
In vitro: EGF816 showed sustained inhibition of pEGFR, which is consistent with the irreversible binding mechanism of EGF816. EGF816 also performs exceptionally well in long term dosing studies providing durable responses in the preclinical models [1].
In vivo: EGF816 demonstrated strong in vivo tumor regressions in several EGFR activating and resistant tumor models. In all of the models EGF816 inhibited tumor growth dose-dependently and achieved regressions of established tumors at well tolerated doses [1].
Clinical trial: A phase I/II study of EGFRmut-TKI EGF816 is being conducted to investigate the efficacy in adult patients with EGFRmut solid malignancies.
Reference:
[1] Shailaja Kasibhatla, Jie Li, Celin Tompkins, Mei-Ting Vaillancourt, Jennifer Anderson, AnneMarie Culazzo Pferdekamper, Chun Li, Oliver Long, Mathew McNeill, Robert Epple, Debbie Liao, Eric Murphy, Steve Bender, Yong Jia, Gerald Lelais.  EGF816, a novel covalent inhibitor of mutant-selective epidermal growth factor receptor, overcomes T790M-mediated resistance in NSCLC. [abstract]. In: Proceedings of the 105th Annual Meeting of the American Association for Cancer Research; 2014 Apr 5-9; San Diego, CA. Philadelphia (PA): AACR; Cancer Res 2014;74(19 Suppl):Abstract nr 1733. doi:10.1158/1538-7445.AM2014-1733